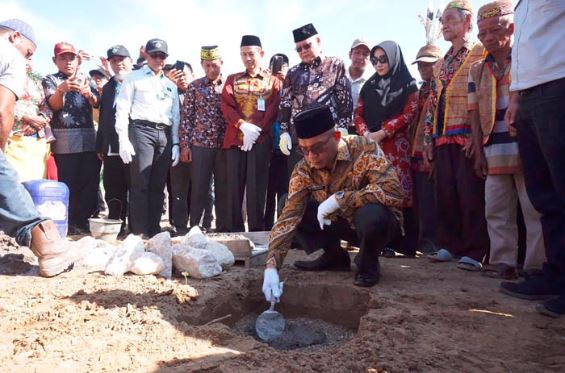 The Regent Asks Residents to No Longer Cross the Hauling Road
PT Berau Coal re-realized the Corporate Social Responsibility (CSR) program for the construction of bridges in Tumbit Dayak Village, Sambaliung District. The bridge will connect the Tumbit Dayak area with Tumbit Stage in the village.
The purpose of building this bridge is to make it easier safer and more comfortable to the communities who drive, they don't need to go through the hauling road anymore which is certainly very dangerous for them.  The construction of the bridge was marked by the laying of the first stone by the Berau Regent Muharram, on last Thursday(18/7).
"Alhamdulillah, PT Berau Coal listened to public complaints regarding the problem of the traffic lane they are passing through every day, by building bridges. This is none other than the interests of the wider community," he said.
Muharram hopes that the community will also commit to no longer crossing the hauling road, but utilizing the bridge once it completed build. Muharram also thanked PT Berau Coal for being always present and providing solutions for the community.
Meanwhile, Head of Tumbit Dayak Village Ahmad Syuhada said that the construction of the bridge was a good step for the people of Tumbit Dayak Village.
"All this time, the hauling road was the only land access for us. There is a big risk, cause we have to deal with large vehicles. And if the bridge was complete builds, the Tumbit Dayat's community were asked not to go through the hauling road again for mutual safety" He said.
"We thank Berau Coal and will always support the existence of PT Berau Coal because they have been contributing many positive benefits in all lines of people's lives" Ahmad said.
Meanwhile, VP Operational Support and Relations Director of PT Berau Coal Gatot Budi Kuncahyo said, the construction of the bridge uses corporate CSR funds. The bridge will build by using an iron frame with a length of 120 meters, a road width of 3 meters and a wide sidewalk of 0.75 meters, and will has the power to hold the vehicle load up to 8 tons.
"This is our commitment included in PT Berau Coal's 4 pillars, namely infrastructure, economy, culture and education. We also express our gratitude to the entire Berau community for continuing to support the operations of PT Berau Coal, "he said.
Gatot also hopes the community can be utilized the bridge properly.This is also to reduce accidents in the hauling area. "Of course we don't want people to use the hauling line for their daily traffic. Departing from that concern, this Tumbit Dayak bridge was built, "he concluded.