c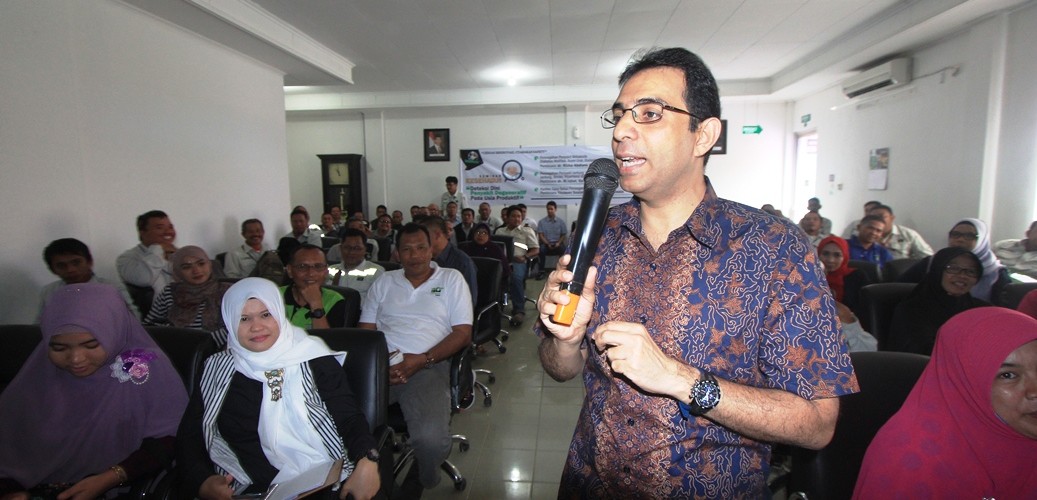 TANJUNG REDEB- PT Berau Coal in cooperation with the Khatulistiwa Laboratory Berau, organized health seminar under the theme Early Detection to Degenerative Diseases in the Productive Age on Saturday (13/2). Dozens of PT Berau Coal employees and their spouse which is united in the Persatuan Istri Karyawan Berau Coal (Persika) flood the Ebony Head Office Berau Coal, the venue of seminar.
Head of Mining Technique (KTT) PT Berau Coal H. Gatot Budi Kuncahyo, appreciated the health seminar. He said, all employees must know the cause of heart disease, uric acid, cholesterol and other disease so that the preventive measures can be taken.
In addition to that, the care to the health shall be supported with the consumption of nutritious foods. "Last but not least is the workout," Gatot added.
The seminar is one of the series of activities by PT Berau Coal in order to commemorate the Work Health and Safety (WHS) month. "This is annual program on health," he continued. Additionally, why does the employees health become the top priority of PT Berau Coal, it will indirectly reduce the company spending. Moreover in the middle of weak economic situation and coal price, all measures of efficiency shall be taken.
"If many employees are ill, the spending will increase," he said.
The Health Seminar, which invited dr Muhammad Iqbal SpJP FIHA from Pertamina Hospital Balikpapan, explained that health is the precious belonging of everybody. Therefore, employees in PT Berau Coal must understand the symptoms and method to minimize the possibility of illness. "Prevention is better than medication", he said.
He also said that heart disease is the highest killing disease at the moment. Therefore, all employees must implement healthy life pattern. Such as routine workout, fruits and vegetables consumption, reduction of high cholesterol foods and for the active smoker, abandon this habit. "For example, workout at least 30 minutes a day," he added.
Iqbal also emphasizes to the wifes of the Berau Coal employees attending the seminar, they can be the guidance for their husbands to live a healthy life everyday.