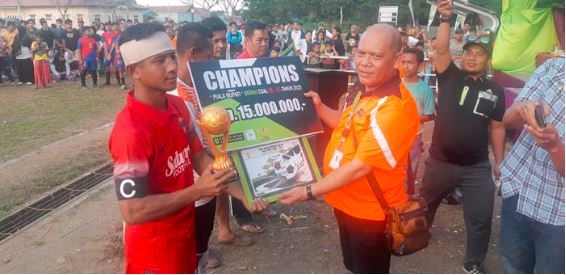 Berau regent, Muharram closed the Bupati Cup 2019 event which had been held for 13 years which was held at Gunung Tabur Field last Tuesday (23/7).
The closing ceremony was held concurrently with the final match between Saturut FC against Paga Junior FC.
At the close yesterday, it was also strung together with the final party between Saturut FC against Paga Junior FC, where Saturut FC become a champion after win 1-0 by through a second-half goal
Besides Muharram, the closing ceremony also attended by Gunung Tabur Sub-District Head, Gunung Tabur District Military Command, Gunung Tabur General Manager of Corporate Social Responsibility (CSR) PT Berau Coal Horas Parsaulian Pardede.
Met after the match, Berau Regent Muharram expressed his gratitude for the Bupati Cup's implementation smoothly. Moreover, according to him, the year the title took place well and perfectly.
"The number of tournaments in Berau should make Berau a seed barn for football players.  Refer to the facilities and support from companies such as Berau Coal have been very good too," he said.
Therefore, he sees that football in Berau should be able to speak a lot, at least at the provincial level. How selection and coaching must be fostered intensely.
Speaking about the upcoming 2022, he said he would hold the Provincial Sports Week (PORPROV) of East Kalimantan. "The hope is that our youth will be able to talk a lot and sports will begin to prepare from now on to football," he said.
"I also thank all parties, including companies that have participated in advancing sports in Berau," he added.
Meanwhile, the General Manager of Corporate Social Responsibility (CSR) of PT Berau Coal Horas Parsaulian Pardede said that PT Berau Coal had always supported all positive activities through CSR. This meant the 13th Cup Regent Cup activity.
Moreover, during this time he explained, for football events not only the Bupati Cup supported by Berau Coal. "We also support the Batu Bual tournament. The main thing is a positive activity that awakens sports achievements in Berau," he explained.
He also wants every year the Bupati Cup title can create seeds of soccer athletes, who can play at the provincial to national level. Horas also hopes that in the upcoming 2022 East Kalimantan Porprov title, the Berau soccer team will be able to win first place.
"I think it should be possible. Hopefully, this activity can be maintained continuously. If necessary, the invitation can be from other city district teams. So that this event continues to grow," he said.