c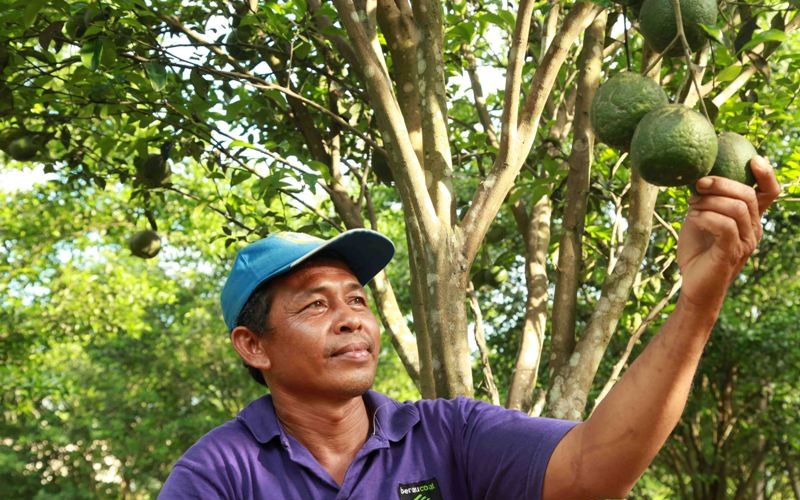 Agricultural potential interests the Rantau Panjang farmers especially in citrus tree planting. Rohdi Sama, the farmer whom we met on 28 November 2014 and in his garden told about his big dream a central agricultural of citrus village in Rantau Panjang.
His dream was not just a picture, but last year he could realize it that Rantau Panjang as comparative study by the fostered citrus farmers of a coal mining company in Bulungan, East Kalimantan.
"I believe what we have done so far, someday our village would be a citrus producer for east Kalimantan region," said him who has a nickname, Roni. Roni added though his village as an object of comparative studies, he and 39 other Rantau Panjang citrus farmers had been able to produce their own citrus seedlings with planting techniques utilizing grafting buds and sold them to others citrus farmers.
Before in citrus cultivation, in 2003, Roni had ever tried in breeding chickens. Due to the feeds problem, his laying hens didn't produce eggs, so he had to sell them for his daily needs.
In 2007, the man who also leads The Farmers Group Association (Gapoktan) Sehati Tunas Mekar, introduced with citrus, rambutans, durians by PT Berau Coal through Yayasan Dharma Bhakti Berau Coal (YDBBC). From all these commodities, citrus is the most lucrative market. The citrus tree produces 50-60 kilograms (Kg) in the harvesting season, sold 10 thousand rupiahs/kg. In 2010, Berau Coal started introducing and giving primed tangerine Borneo seeds to the Gapoktan Sehati Tunas Mekar to start to be cultivated. This is a way to support the planting of local varieties which are encouraged by the Departement of Agriculture of Berau District.
When this local citrus introduced for the first time, the man who was original from West Nusa Tenggara with 39 members of Gapoktan, felt uncertain to grow primed tangerine seeds. Year 2011, Gapoktan Sehati Tunas Mekar started seeding the primed tangerine Borneo in their own lawn with over one hectare grounds.
"When I see the temporary result of the fruit, I have no doubt anymore. We expect if all the garden's member produce many fruits, we could be a prime Borneo tangerines' producers and we have a good money because of the fruits bigger than citrus," said the man who currently has 4 kids.
Besides of Roni. There is also Siri, Rantau Panjang citrus farmer. He has been successfully cultivating prime Borneo tangerines seed. But the tree is capable of producing 40 pounds in the harvest season. "Imagine if 40 trees multiplied by 40 pounds, it would be 1.6 tonnes  of prime Borneo tangerines and it is good to increase our revenue," he said.
Their success in growing citrus is not instant, after nine months  of seedlings, citrus trees take about two years to produce primed citrus fruits and the prime Borneo tangerines take approximately 3-4 years. The problem, when the tree gets root rot disease. "If it is attacked by this disease, the citrus tree will die. But because of the training and mentoring from Berau Coal over the years, we were able to handle it," Roni said while showing his tangerines fruit.
Roni added, he and his Gapoktan will handle own the marketing later, not from middlemen who buy the oranges there. "if anyone wants to learn how to farm oranges, we are ready to share the knowledge", he said. Those who are interested to buy seeds citrus, citrus fruits as well as sharing of training can contact  085247097179 (Rohdi).
Meanwhile, Muhammad Fathoni, Agribussines Development Officer of Berau Coal added, besides to mentoring, we also assist in training to the Rantau Panjang farmers in cooperation with Research Centers for Citrus and Subtropical Fruit, Batu, Malang and help them fertilizer, herbicide, and pest eradication of drugs.