c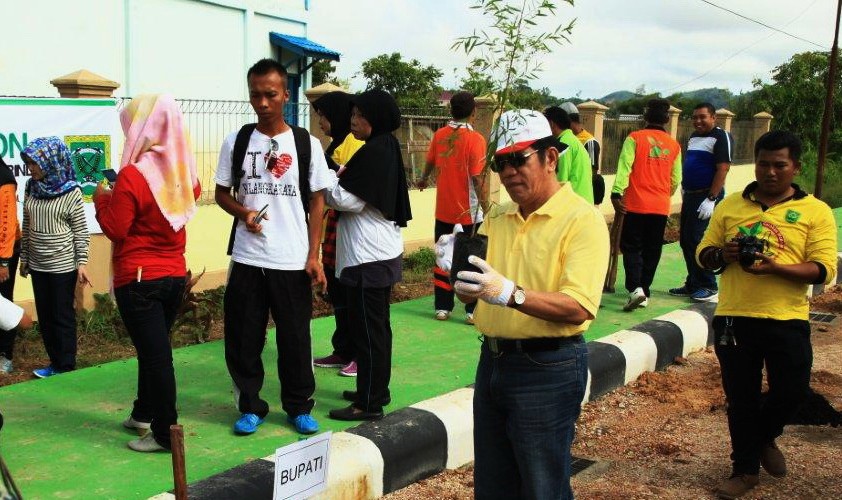 TELUK BAYUR – Friday Riding movement of PT Berau Coal became special on 6th March 2015, Berau head government with local government officials, management, and employees biked together and planted tree along Gang Elang, Rinding village.
Bike route begins from the office of local government of Berau Regency headed to Gang Elang beside the Rinding village office led by H. Makmur HAPK, MM, Berau head government planting tree 120 seedlings white wood (Melaleuca leucadendron).
Community and Rinding Headman warmly welcomed Head Government and Berau Coal Management. Traditional delicacies served as a form of warmth Rinding community. "I think Cycling and planting are great activities. Besides gathering, planting activities contribute to the environment for our next generatios later," Makmur said.
"I ask the companies in Berau participate in preservation the environment in Berau, actively involved in making Berau be Clean, Healthy and Green," Makmur said in his speech.
"I encourage Berau Coal and their contractors to contribute to the median park road along the airport towards KM5. Because it is the face of Berau area, people from the airport will pass it. Their contribution it can be positive memories Berau Coal and Contractors of this area," Makmur explained.
Makmur symbolically handed over two eucalyptus trees to the Teluk Bayur sub-district head and Rinding village head. Then, planted eucalyptus trees along 440 meters. Seeds that would later serve as roadside it could also be a deduction from pollution and absorbing rainwater.
Besides those locations, the activities in collaboration with the Public Works Department and Berau Hygiene and Garden Department will also be implemented in some other places, among other roadsides and intersections of three Gunung Tabur Sub-districts with the 890 meters of planting area.
Other planting areas along the 500 meters at the roadside of Fish Auction Place (TPI) and 225 meters in Bukit Berbunga Road, Sambaliung District. Total white wood seeds in four points of the planting site are 554 seeds. The whole seeds are taken from nursery of PT Berau Coal, whose production capacity between 104.000 to 240.000 seeds per year.