c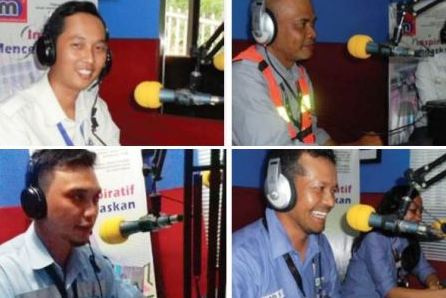 Health, Safety and Environment (HSE) Campaign by PT Berau Coal (BC) in coorperation with Radio Manimbora Birama Swara (MBS 103.4 FM) has received full support from the partner Project Managers (PM) of PT Berau Coal.
In order to realize the HSE, the PM, as regularly scheduled and programmed, continue to campaign the importance of HSE for all mining workers in the program of Kangen Kamu and Keluarga (K3) every Thursday at 11.00-12.00 Central Indonesian Time in Radio MBS 103.4 FM.
Didit Pramudya, PM PT. Sapta Indra Sejati (SIS) site Sambarata PT BC  in campaigning the HSE stated that in the mining operation, HSE is the basic of operation to achieve excellent operation.
Then, Amudi Sormin, PM PT. Bukit Makmur Mandiri Utama (BUMA) jobsite Binungan – Suaran in his broadcast stated that fatigue management conducted by BUMA has consistently implement sobriety test to the employees working at the critical times or fatigue-prone between 09.00 – 11.00 and 02.00 – 05.00.
As the youngest mining contractor running the mining operation of BC in Lati and Binungan, Mutiara Tanjung Lestari (MTL) has been participating in campaigning HSE. "Be wise to the working activity pattern and resting pattern according to the regulation so that the spirit can be maintained, always in healthy condition and be focused on the job", Handoyo Sujatmiko, Mining Manager of PT.  MTL. said.
PT. Ricobana Abadi (RBA) also broadcasts the HSE campaign in radio MBS.
Representing Ardi Sindutomo, PM RBA who were absent, Hasnullah, Safety Health and Environment (SHE) Section Head RBA said that RBA has the Safety, Health, Environment, Accountability Program (SHEAP) program, of which the core message is "maintain the work health and safety, including the prevention of environmental pollution. Safety is beneficial for us and our family, not merely for the company interest".
Meanwhile, Saridi, Environment Manager PT BC, in the HSE campaign, said that the environmental preservation is our responsibility according to our portion. Protect the environment from the minor misconduct starting from now. If we want the environment to be friendly, then we should be friendly to the environment.
The Kangen Kamu dan Keluarga (K3) program broadcast in Radio MBS 103.4 FM every Thursday 11.00 – 12.00 Central Indonesian Time is expected to be used as reference for HSE because it presents the exemplary leaders and person in working safely in the operating environment of PT Berau Coal.
In addition to K3, other HSE campaign program in Radio MBS are Energi Pagi, Banua Hijau (Ba-Jau), Energi Malam and safety messages by "Miss Safety" which is played during the commercial break. (AGS/FSO)