c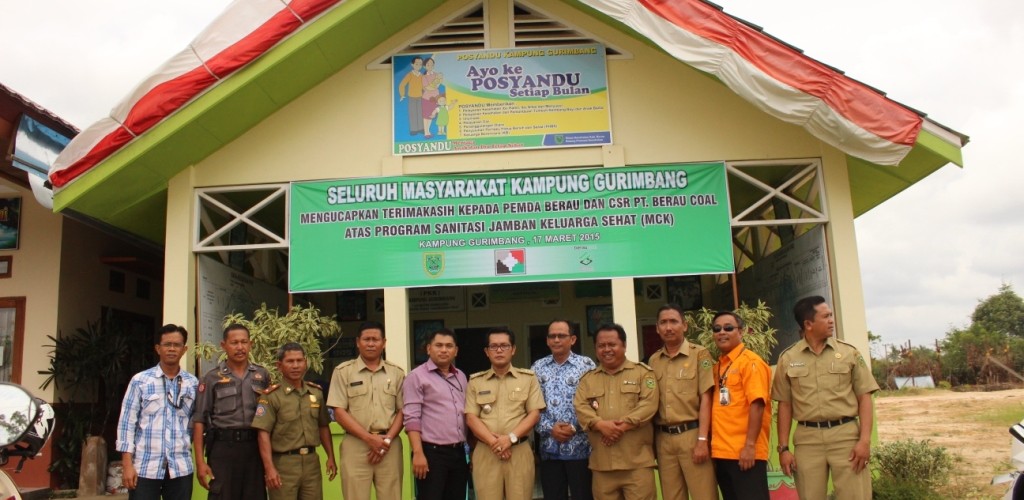 PT Berau Coal (BC) is committed to give positive contribution for the villages around the mine. One of them is Gurimbang village which has various achievements in the provincial and national levels.
One of the best achievement was becoming the best village in national level. The head of the village, Madri Pani has been awarded as the exemplary head of village. The success was because of the cooperation with and the guidance from BC.
Horas Parsaulian Pardede, General Manager CSR of PT Berau Coal stated that by the improvement of sanitation system in the four pillar programs of BC, it was succeeded in making Gurimbang Village famous because of its achievement. One of the aids program for basic sanitation or jamban sehat has contributed to the program of Gurimbang village that in last 2015 Mr. Madri Pani was awarded as the national exemplary village head.
In addition to the basic sanitation system, the pillar program for health and nutrition being implemented were the community health check, training for posyandu cadre, operation of nutrition post and improvement of early age growth," he added.
Other commitment was the improvement of economy of the village people. This includes the improvement of agricultural road in RT 1 and 2 of Gurimbang village. For the pillar of social and cultural environment and the economic development, the program includes the training cost aid and development of culture, infrastructure for art, operational for landfill (TPA), guidance for religious mental, environmental campaign, program aid for animal husbandry and fishery and home industry which grows rapidly.
The constuction of other infrastructures which has already finished and utilized by Gurimbang people were the construction of village head office, posyandu building, village hall, smart house and pavement of main road.
"It is not only infrastructure, the four pillar programs were also implemented successfully in this village," he explained.  The program was meant to increase the living standard of the community in terms of economy, education, and health," he added.
Last but not least, the quality of education is also the commitment of BC in the village." We also have aids program for the education cost and improvement of teacher's competence. Undoubtedly, BC also gives scholarship for the higher education to the teenagers in Gurimbang village," he exclaimed.