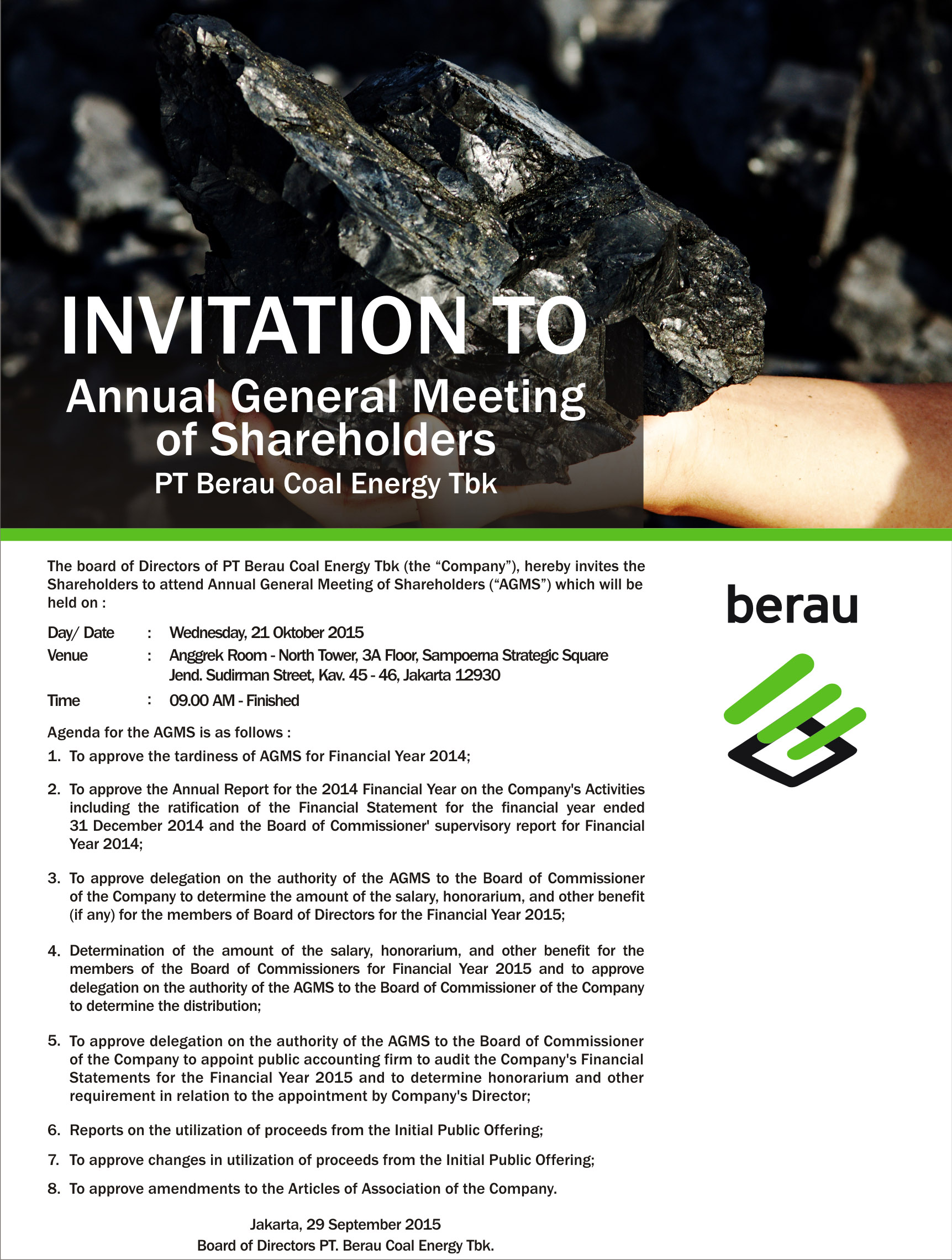 Notes :
1. The Company will not send out a separate invitation to the Shareholders. This announcement will be the official invitation for all Shareholders. The Shareholders who are entitled to attend the AGMS are Shareholders of the Company whose names are registered in the Company's Shareholders Register on 28 September 2015 at 04:00 PM, for the collective shares or uncollective shares at PT Kustodian Sentral Efek Indonesia (KSEI);
2. The Shareholders who cannot attend the AGMS can be represented by their appointed proxy, proven by a valid Power of Attorney Letter in form as determined by the Company's Directors, providing a power of attorney to the Directors, Commissioners and Employees of the Company is allowed, however their votes cast by them as proxies in the AGMS shall not be calculated in the voting.
3. The Power of Attorney Form can be obtained everyday during working hours at the Company's Share Registrar, PT Sinartama Gunita, Sinarmas Land Plaza, MH. Thamrin Street, Kav 22 No.51, Jakarta 10350. The Power of Attorney has been signed on Rp 6.000,- stamp duty must be received by the Company along with the a copy of Identity Card of  the authorizer and the proxy at the latest 3 working days before the date of the AGMS.
4. The Shareholders or its proxies who will attend the AGMS will be requested to submit their valid Identity Card (KTP) or other valid identification evidence.  The Shareholders who are in the form of a Legal Entity (Limited Liability Company, Cooperation or Foundation), or Business Entity shall provide a copy of its Articles of Association and its amendments along with the current composition of  the Board of Directors and the Board of Commissioners or its management. Shareholders with the collective accounts at KSEI will be required to provide Written Confirmation for the AGMS (Konfirmasi Tertulis Untuk RUPS/"KTUR") to the registration officer before entering the meeting room. KTUR can be obtained from the members of the Stock Exchange and/or the Custody Bank of KSEI account holder.
.
5. To facilitate the arrangement and the order of the AGMS, the Shareholders or its legitimate proxies shall be present at the AGMS place 30 (thirty) minutes before the AGMS starts.
6. The materials of AGMS can be obtained every day during working hours, in the Company's office, Menara Sunlife 17th floor, DR. Ide Anak Agung Gde Agung Street, Block 6.3, Mega Kuningan Region, Jakarta 12950, phone +6221 2966 9700.