c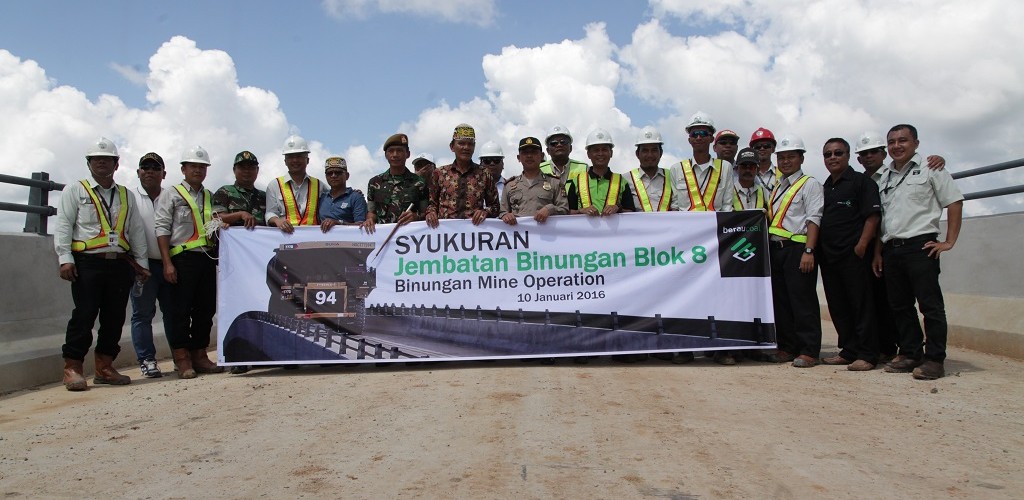 KILAS BERAU – On Sunday , January 10, a syukuran was held to celebrate the opening of Kelay Bridge Block 8 Binungan, which was attended by all elements of community in a mutual cooperation and togetherness.
In this "guyub" atmospehere, Direcgtor of PT Berau Coal, Arief Wiedhartono said, "we should be thankful that in the midst of decreasing coal price, we can do something very valuable and vital, the finishing of construction of
Kelay Bridge Block 8 Binungan.
"Kelay Bridge Block 8 Binungan is an infrastructure for coal transport from Block 8 to Port Suaran, and it is not public bridge for the community. Therefore, we should take care together to avoid any unecessary incident, which can obstruct the coal transport," said Arif Wiedhartono in his speech.
Vice Mining Technical Head Binungan Mine Operation 2, Nanang NC in his speech said that the birdge was started the construction in January 2015 and he ascertain that the team will maintain the safety and security of the Kelay Bridge Block 8 Binungan
for the security of common safety.
Meanwhile, General Manager Coal Handling Infrastructure Development (CHID), Dudu Anwar Sanusi also explained that the construction process of the bridge with 7
meters in width and 141 meters in length was rather interesting, because it was confronted with the cost effective requirement related to the decreasing coal price, but still it has to be strong enough and meet the stipulation from the Ministry of Public Works.
"The bridge which cost IDR. 48,251,966,000.- is situated in soft ground, therefore it requires detailed study and additional pile slab structure in order to strengthen the bridge," Dudu Anwar Sanusi added.
In addition to the leadership of PT Berau Coal and partners Project Manager, the ceremony of Kelay Bridge Block 8 Binungan was also attended by Danyon Armed, Muspika, Kepala Kampung and Public Figures from Tumbit Dayak and Long Lanuk as well as the residents.
The ceremony was held in modest way with familial atmosphere of Tumbit Daya and Long Lanuk residents. The residents was take part in giving the charcoal powder to all guests at the ceremony as a symbol of togetherness.
For the record, Kelay Bridge Block 8 Binungan is the 10th bridge constructed by PT Berau Coal. Next, in a rather short period of time, a construction of CSR bridge in Tasuk – Sambarata and Kedesa – Suaran, and 2 operating bridge in Sambarata will be started. (AGS/EDS)