c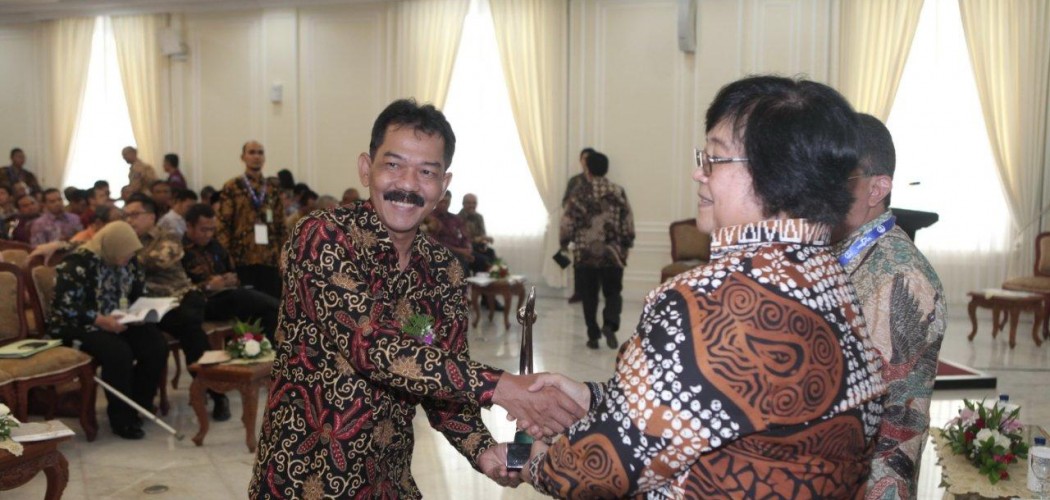 PT Berau Coal (BC) Site Lati and Binungan achieved the Green ranking, and Site Sambarata achieved Blue ranking in the National Improvement Program (PROPER) for the period of 2015 – 2016 held regularly by the Ministry of Environment and Forestry (KLHK) of the Republic of Indonesia (RI).
The award was directly granted by the Minister of KLHK, Siti Nurbaya Bakar to Suhartono – Site Manager of Lati and Bobby Rianto – Site Manager of Binungan Area 1, witnessed by the Vice President of the Republic of Indonesia, M. Jusuf Kalla (JK) in the Environment Award  PROPER in the Vice President Palace, Kebon Sirih – Central Jakarta.
JK said three main issues of the world attention, the environment issue which is now equally important to the human rights and democracy. JK reminded hat it is very important for the businessmen and the company to comply to any government regulations on the environment.
In 2016, the PROPER participants were 1,930 companies from 111 industries. As may as 12 companies achieved gold, 172 green, 1422 blue, 284 red, 5 black, 13 companies were undergone legal process, and 22 companies were closed or not in operation.
Arief Wiedhartono, Director of PT Berau Coal Energy Tbk highly appreciate the hard work of all BC team in achieving the Propernas.
"Propernas is the appreciation from the government to the environmental management activities in the operational environment of PT BC, and this achievement will be the booster so that we are more committed in the field of work health, safety and environmental preservation and to give positive contribution to the community around the BC," Arif said.
In addition to PROPER Nasional, the similar award was also achieved by PT Berau Coal in the East Kalimantan Province las May.  In the Provincial PROPER, BC achieve Gold ranking for Lati, and Binungan and Sambarata are Green. The achievements obtained from the two ministries showed the seriousness of Berau Coal commitment in managing the environment in its operating area.
It was proven that in November 2016, cumulatively re-vegetated land by environment team of PT Berau Coal was  3,467.65 hectares from 11,837.98 hectares affected area or it has reached 29.29 percent.
Whereas, corporate social responsibility program, which is the primary concern of PT Berau Coal, was operated by Dharma Bhakti Berau Coal Foundation (YDBBC). His is the implementation of commitment and responsibility to the community and environment.
CSR of PT Berau Coal focuses on the four pillars pogram of education and science and technology, health and nutrition, social environment and culture, infrastructure development program in the villages around the mine, and to support the development of sustainable economy initiated by the regional government of Berau Regency in the field of agribusiness and regional tourism. (FSO)