c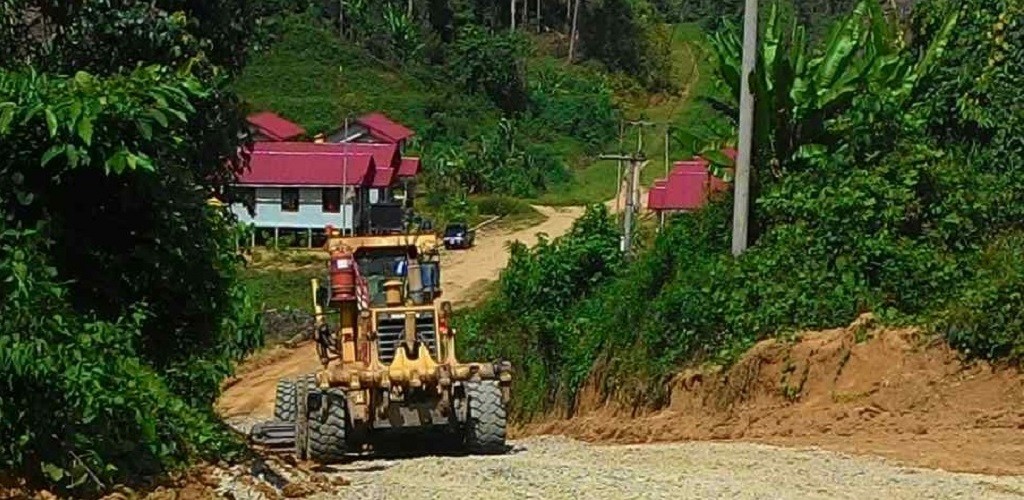 TANJUNG REDEB- After establishing the residential area for the Komunitas Adat Terpencil (Remote Custom Community – KAT) KM 2 Lati, Kampung Sembakungan, PT Berau Coal also improve the residential road in the area. If previously, the road was only in form of dirt road and when the rain strikes it become slippery and muddy, it now has stone layers on top of the dirt.
The improvement in form of placing the stone was to make the residents no longer worry of being fell due to slippery when crossing the road. The Community Relation Officer PT Berau Coal Ali Masnuri said that the improvement of road in KAT Km 2 Lati, is to faciliate the community living in the area.
Because so far, there are around 100 to 150 meters of dirt road which is difficult to pass by the community. not only that, during the heavy rain, although only a drizzle of rain, the road is very slippery, so that the community must wait until the road to dry before starting to pass through the road.
The worst is that the road is the only road to the residents of RT 6 Sembakungan. Moreover, the area is having difficult access to clean water.
"To obtain clean water, the people must travel across the mountain of the road. Therefore, when the rain comes, they will be difficult to obtain the water.
Not only to obtain the clean water, if the road is not improved, all residents in KM 2 Lati will be difficult to bring their kids to school.
"Including those having the illness, which is difficult to predict or to delay" We are worried if there are residents who are ill, and the road is still dangerous for the vehicle trip," he explained.
Currently, the road improvement has completed, therefore the residents of KM 2 are no longer worried to pass through the road during the rain. "The job is done, it was started Friday morning and in the afternoon it is already completed," he said.
Meanwhile, the Deputy Project Manager PT Ricobana Abadi, Heru Hendarto, explained that in improving the road in KAT Km 2 Lati, they have no problem at all. The weather was good and the work can proceed faster. In improving the road, they support with one unit of compressor.
Meanwhile, Ketua RT 6 Kampung Sembakungan, Siham confess that the road improvement is really needed by the residents. He explained that previously, the road in KAT KM 2 is very dangerous when raining. "If the road is good, the residents will be easier in doing their activities," he explained. FSO