c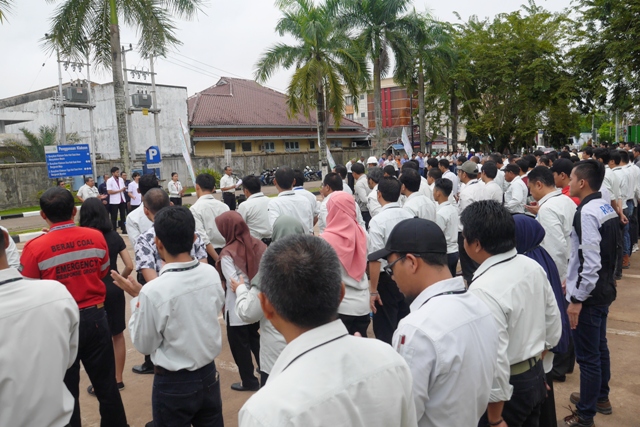 Tanjung Redeb – The celebration of Work Safety Month was held again, with the series of activities opened by the Head of Mining Technique PT Berau Coal – Gatot Budi Kuncahyo in the safety talk session and at the same time the opening of National Work Health and Safety (WHS) 2017 in Head Office PT Berau Coal (25/1). "thank God we have through 2016 with hard work and spirit to maintain work safety, so that we achieved Zero Fatality", Gatot said.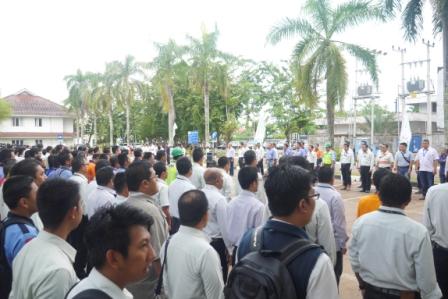 In 2017, I hope that the performance of work safety is more focused on the implementation of Golden Rules and Regulation of Minister No. 38 Year 2014 on the Safety Management System of Mineral and Coal Mining, and with the implementation of this program and the continuation of the previous programs, in 2017 we set the target for Golden Safety on Severity Rate and Frequency Rate (SR & FR Gold) and Zero Occupational Illness", he added.
Various activities have also been carried out to celebrate the WHS month, such as Housekeeping Workshop, Futsal, Body Mass Index (BMI) Healthy Champion, Safety Seminar, Mining WHS Assessment or Best Pit Performance,  Smart Competition, Health Seminar, and last but not least, the Fun Run 5K.
"I urge, ask and encourage all BC employees and partners to participate in the series of 2017 WHS Month celebration. This is our commitment in nurturing WHS in PT Berau Coal," he emphasized.
By bringing the theme of WHS, Future Investment, it is expected that we can maintain the work safety, health and productivity as the investment capital for the future to improve the life quality. The production may increase, but the accident must be kept zero by means of supervision and implementation of strict work procedure.
"I am sure that by participating in the activities, our spirit and motivation will be improved in order to continue to give positive contribution to the work health and safety culture in PT Berau Coal especially, and in the national level in general", he ended (EDI).