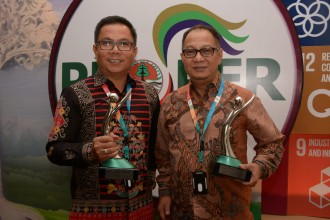 PT Berau Coal (BC), for Lati and Binungan Mine Operation, was again awarded Green Certificate in the National Level Corporate Performance Improvement Assessment Program (PROPER) award from the Ministry of Environment and Forestry (KLHK) on Thursday, December 27, 2018.
The Minister of Environment and Forestry, Siti Nurbaya Bakar handed over the green ranking trophy to Boby Rianto as WKTT Lati, and Gamal Hendrawan Wanengpati, GM Corsec representing the Binungan Site.
This achievement is the result of the work of the BC team, being a whip of encouragement to be better in environmental management, safety, health work and positive contributions to the community around the mine.
The company which currently houses more than 19,000 workers has a strong commitment to managing the environment as well as occupational safety and health that is applied in HSE policies (safety, health, and environment).
There is also a rule that Be GeMS (Berau Coal Green Mining System) has obtained ISO 14001: 2004, and OHSAS 18001: 2007 management system certification by Llyod's Register Quality Assurance on March 5, 2014.
Meanwhile, the CSR program is one of the main concerns of PT Berau Coal, which is run through the Dharma Bhakti Berau Coal Foundation (YDBBC). This is a form of implementation of commitment and responsibility towards society and the environment.
Berau Coal's CSR focuses on the four-pillar program namely, education and science and technology, health and nutrition, the social and cultural environment, infrastructure development programs in the surrounding villages, and supporting sustainable economic development programs launched by the Berau District Government.