c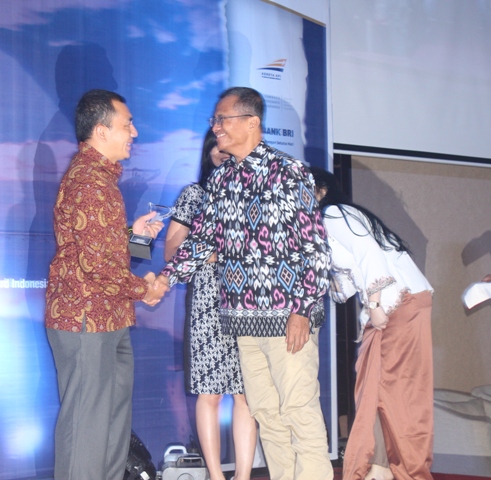 At the same time of National Press Day (HPN), Kilas Berau won the Indonesian Inhouse Magazine Awards (InMA) for the fifth time organized by Serikat Perusahaan Pers (SPS) Pusat (9/2). Dahlan Iskan, General Chairman of SPS Pusat which attend the event of Appreciation Night in Golden Palace Hotel, Mataram, West Nusa Tenggara, declare the internal communication product of PT Berau Coal as the best E-Magazine.
Dahlan Iskan apprecaite all management of company internal magazine. According to the Minister of State-Owned Enterprise (BUMN), the internal magazine must have parameter magnitude felt by the reader.
"The internal magazine is a strategic tool if managed well as the communication media for the communication. It is also the representation of the corporate image. I hope InMA can be the encouragement for the internal media management to be more creative and innovative"said this almost 65 years old guy.
"Keep up the good work, raise the vibration and establish good relation with the internal sources so that when you write, there are special taste, and the power within", said ex-CEO of Jawa Pos Group.
Arif Hadianto, Public Relations Manager (act) who received the award thank for the award winning of Kilas Berau in this national level. "Alhamdulillah, thank God for the support and active participation of all employees of BC/BCE groups,   although less than 2 years old, Kilas Berau is capable to compete with other 65 companies", said the guy who started the career in the mining company since 2006.
Kilas Berau now grows as one of the internal communication media in BC/BCE Group in campaigning HSEC, in 2016 we will focus on the campaign of Berau Coal Cerdas, which encourage the transformation of innovation and HSEC campaign, especially related to the implementation of 11 Safety Golden Rules, said Arif.
Whereas, the person in charge of the activity, Asmono Wikan, Executive Director of SPS Pusat, total entry of this year event is 885 from 244 companies and institutions, with the distribution of 503 entries for Indonesia Print Media Awards (IPMA), 180 entries for InMA, 144 entries for Indonesia Young Readers Awards (IYRA), and 58 entries for Indonesia Student Print Media Awards (ISPRIMA).
Altough from the aspect of quantity, it was not as many as last year figure, which reached 1052 entries from 248 company and institution, fro the aspect of quality in general, either the commercial printing media, inggriya, and students press, they are better.
"We stipulated the tight criteria for evaluation, including the graphic design, ideas or creative ideas, journalism photography, and mass communication. The board of jury consists of famous experts in communication," Asmono added.
In addition to Dahlan Iskan, during the appreciating award, also present at the event was Vice Governor of NTB Muhammad Amin, Executive Chairman of SPS Pusat Ahmad Djauhar, hundreds of media leaders, student press activists, and PR practitioner from the government and private institutions