c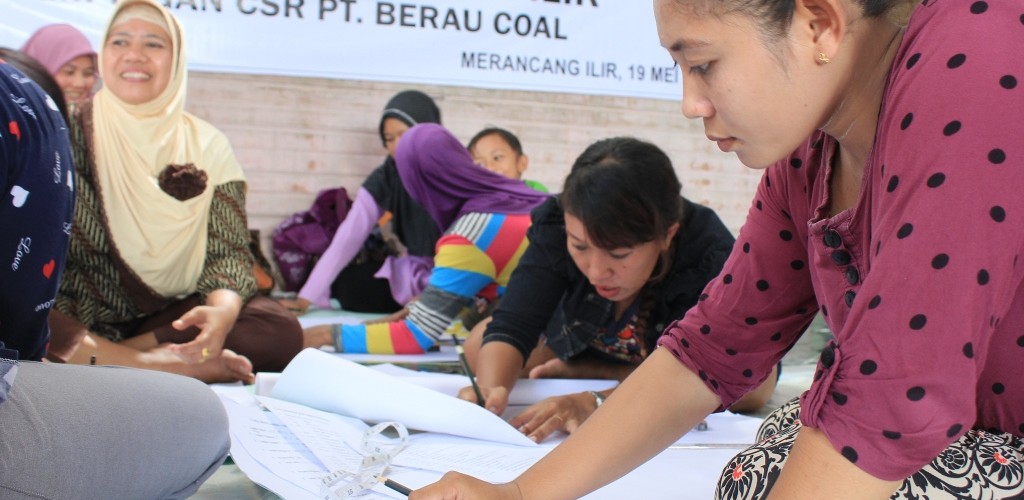 Tens of mothers from Kelompok Menjahit Cempaka, Kampung Merancang Ilir, Gunung Tabur Subdistrict, participated in the sewing training held in sport hall by inviting instructor from Teluk Bayur.
Cempaka Group, which was the mentoring group of Corporate Social Responsibility (CSR) of PT Berau Coal, was very enthusiast in participating in the training. Moreover, some were not patience for practicing the sewing.
"Before practice, we will first teach hem how to measure and draw a cloth pattern. Then, we will continue with the sewing practice," explained Misyanti, one of the sewing instructor Bina Kreasi Teluk Bayur, while opening the training.
As many as 4 instructors were invited in turn to share their knowledge on correct sewing practice. PKK Kampung Merancang Ilir, Gunung Tabur also appreciated the training. They even expected that from the training, they can add their household income. Similar notion was expressed by representative of PT Berau Coal during the session.
"At least, this can give additional benefit for the family, for example, the mother would no longer need to bring their husband's clothing to the tailor in case it is torn, they can sew it by themselves, and finally it can be expanded into a household business," said Ahmad Rifai, representative of PT Berau Coal, the economy section, while opening the sewing training which will be held up to the next 14 days.
"Hopefully, the training will not end here, and can be continued considering the enthusiasm of the mothers," he added.
After opening the training, it was started on how to correctly measure the adult size clothing. After the break, the training was continued on how to correctly draw a clothing before applying to the clothing material.
"It must be gradual, from the measurement, which should be done carefully because some body size must be added or multiplied to obtain the correct size," Misyanti ascertained.
She hoped that the mothers in this training can listen seriously and thoroughly to the explanation. "Because the target was that the mothers should at least be able to make one pair of clothing before the training ends," she concluded.