c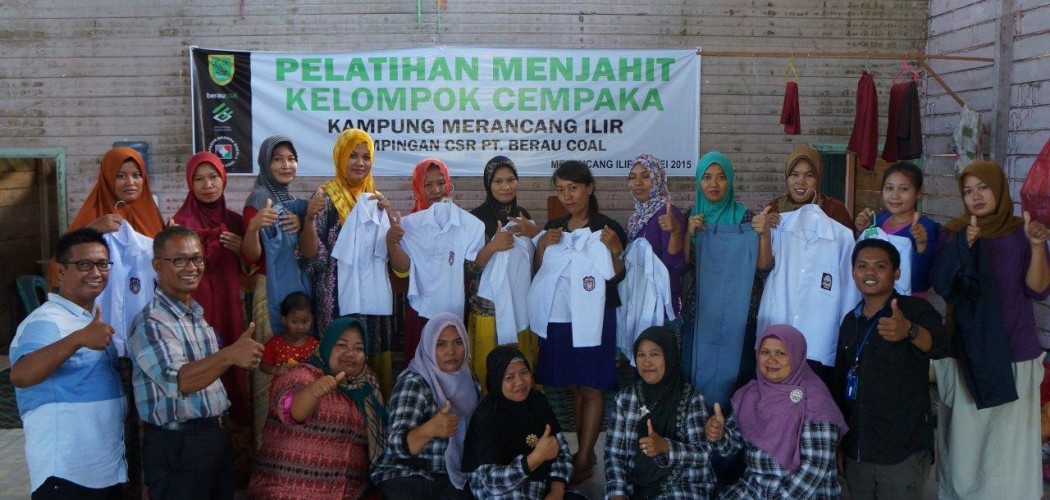 After 2 weeks, the sewing training in the sport hall of Kampung Merancang Hillir, Gunung Tabur Subdistrict, followed by tens of Mothers finally ended yesterday (3/6).
Cempaka Group, which was the mentoring group of Corporate Social Responsibility (CSR) PT Berau Coal express their greatest excitement and gratitude for the training.
"Thank you for the sewing training, for now the mothers in Kampung Merancang Ilir can make the clothing, especially the school uniform for their children", said the representative of Cempaka Sewing Group.
As many as 4 instructors were invited in turn from Bina Kreasi Teluk Bayur, expecting that what has been given could be beneficial and shall not end here.
"Hopefully, it will continue, and doesn't mean that after they are able to make school uniform then they will stop learning, because the science of sewing shall be trained continuously in order to gain expertise," explained Misyanti, one of the instructors.
Similar notion was expressed by representative of PT Berau Coal during closing of training. "At least, this could give benefit for the family, for they are no longer bothered to bring their clothing to the tailor, and the skill of sewing can be used as household business", said Ahmad Rifai, representative of PT Berau Coal, the economy section.
"Hopefully, the training will not end here, considering the enthusiasm of the mothers, and established communication between the participants which should last forever," he continued.
He also expected that the existing sewing machine are not moved to the people's house so that it can be used in turns by the residents. Moreover, it is expected that the number could grow that each resident can operate one sewing machine.
Besides closing the training, PT Berau Coal, represented by Ahmad Rifai, also gave certificate of training to the participant mothers. The certificates were expected to be a motivation for them to keep learning afterwards.
"Never think that succeeding in one type or a model of clothing will make them stop, and learning to make daily clothing and even for the lebaran will be better, moreover when approaching fasting month, the order for tailor is usually increased, especially that comes from the women", he added.
"At least the skill obtained from the training can be used to add the family income", he concluded.