c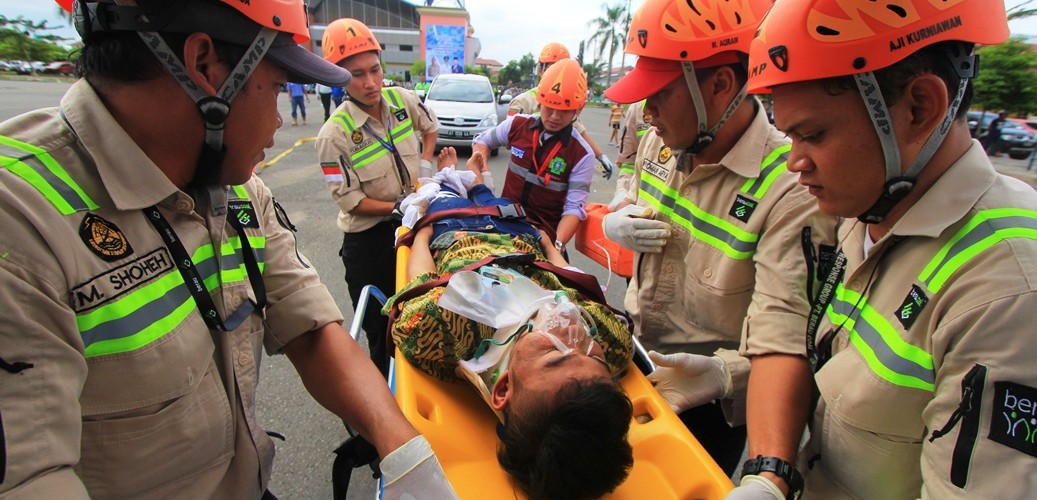 TANJUNG REDEB – An incident occurred in the intersection of Jalan Negara which involved motorcycle and a car. The motorcycle rider smashed the right side of the car and bounced-off and fell off right under car. The shocked car driver braked instantaneously and turn off the vehicle so that the rider was not crushed under the car.
The traffic accident cause the injury to the motorcycle rider and car driver. The head of car driver bumped to the steering wheel and the forehead is injured and passed out soon after turning off the car. Meanwhile, the motorcycle rider broke the left leg.
The incident described the simulation by PT Berau Coal in Lapangan Pemuda, during the ceremony of National Work Health and Safety (WHS) month, yesterday (10/2). In this occasion, PT Berau Coal presented the simulation on the traffic accident rescue in Jalan Negara by Emergency Response Team of PT Berau Coal, which is narrated by Dwita Octivia Shinta Renanda, employee of Berau Coal from Supporting Infrastructure Development Department.
She said, the Emergency Response Team of PT Berau Coal which has 35 personnel, was established in 2011 as the effort of overcoming the work accident in the operational area of Berau Coal. Additionally, the team also actively participated in various emergency response situation in Indonesia and Berau Regency, in particular.
In Indonesia, Emergency Response Team of PT Berau Coal was involved in the rescue of Merapi eruption in Jogjakarta, floods rescue in Manado, and now, the Chief Emergency Response PT Berau Coal is directly involved in the evacuation of Air Asia QZ-8501 accident in Pangkalan Bun, Central Kalimantan. Whereas, in Berau Regency, Emergency Response Team of PT Berau Coal was involved in the search of water accident and the fire extinguishing efforts at the forest and residential area.
Not only that, some national achievement were also received by Emergency Response Team of PT Berau Coal. The latest, in November 2015, Emergency Response Team of PT Berau Coal succeeded in maintaining the runner up position in the 4th Indonesia Fire and Rescue Competition (IFRC) event held by Pusat Pelatihan dan Pendidikan (Diklat) Migas, Cepu, Central Java, 15-22 November 2015.
In this second event, the Emergency Response Team of Berau Coal succeeded in achieving 1 gold trophy in the confined space accident rescue, and 3 silver trophy for work at height rescue, search and rescue in the building and collapsed building, and competence test for the individual of fire fighting officer.
For this simulation, the members of Emergency Response Team of PT Berau Coal consist of 9 personnel; Mohammad Shoheh as the Team Captain, Sapta Rahmat Riyadi as the Team Co Captain, I Nyoman Arya, Agus Nurudin, Hasbi Jumaidil, Adrian Anwar, Prawito, and Riswan as the resue team, and Masrany Wahid as the Incident Command Center.