c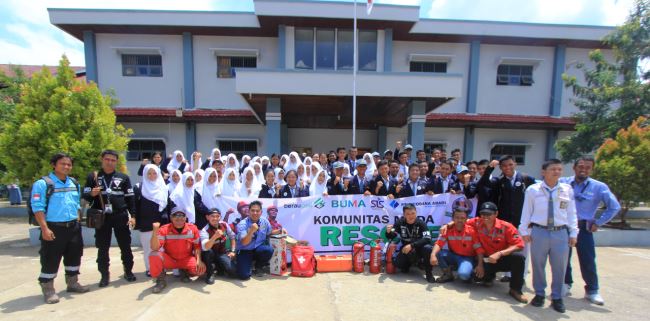 TANJUNG REDEB – As the form of company care to the Work Health and Safety (WHS) to the students community, PT Berau Coal organized Rescue Goes to School in High School 1 Berau, on Monday (15/2) yesterday.
Chief Emergency Group PT Berau Coal, Hendry Achmad, explained, the impact of post-disaster situation are gone through all aspects of life. The lost of life, the infrastructure damages, the cripple of economy as well as the emergence of social problems. To minimize the impact, a good disaster management and handling should be exercised.
Therefore, Hendry continued, Rescue Goes to School was there in the middle of the students community. The handling was not limited to the medical aspect, but also non-medical. Therefore, he added, it requires a continuous training.
He explained, Rescue Goes to School is part of the series of activity in the National Work Health and Safety Month (BK3N) commemoration which aims to search for a young talent, and one of them was to educate the students. Additionally, the are some materials presented, including disaster management, First Aid and Fire Rescue.
For the first stage, the students will receive introduction on how they cope with the emergency situation, so that they globally understand that when the disaster strikes, a management shall be in place. "And in the operational, there is always the stages of the pre-disaster process, pre-emergency, and pre-post-emergency," he said.
Pre-disaster activities include the prevention, preparedness, and early warning system. Activities during disaster include emergency preparedness to mitigate the temporary suffering, such as search and rescue (SAR), and emergency assistance and refugee. Post-disaster activity is the recovery activity.
After the Rescue Goes to School ends, PT Berau Coal will take 5 students from each school to participate in the joint training. "The selected students shall have understanding on the materials we provided. Because they will face the real life situation during the simulation," he said.
Whereas, As Liyanti Nor, Class X student, admitted that she was very happy with the Rescue Goes to School activity. In addition that this activity is beneficial for herself, it also beneficial to other people. "All materials being presented are very beneficial. We know how to give the first aid during the disaster. Such as during fire incident, we know what to do to the victim", she said.